Why should you choose Pulver Dental Care?
Here at Pulver Dental Care, we pride ourselves on providing top quality family and cosmetic dentistry services. We are located in Lowell, IN, and have compassionately served our patients for over 35 years.
Our mission is to realize a shared vision of uncompromising excellence in dentistry. We listen to our customers and strive to earn their trust and respect at every visit. We want to exceed all of your expectations and foster a creative, compassionate, and professional environment. As a practice we are always working to continuously improve ourselves on all levels. We appreciate and always welcome feedback from our patients.
Why should you choose Pulver Dental Care? Our staff is friendly and personable with open and consistent lines of communication between our dental team and our patients. We want you to be involved in your care and oral health plans. We are not corporate – our office offers personal care and we are here to connect with you.
Dr. Pulver originally pursued a medical profession because he wanted to help people. He found that dentistry was the perfect way to do just that. Dr. Pulver loves getting to transform patients' smiles, help them maintain their oral health, and regain confidence. His son, Anthony, wanted to be a dentist like his dad even when he was in preschool. Today, they work together and make an incredible team.
Both Dr. Donald and Dr. Anthony Pulver share a love for dentistry and a compassion for their patients that is evident each day in our practice. The warm environment of Pulver Dental Care combined with our commitment to excellence in dentistry separates us from any other dental practice.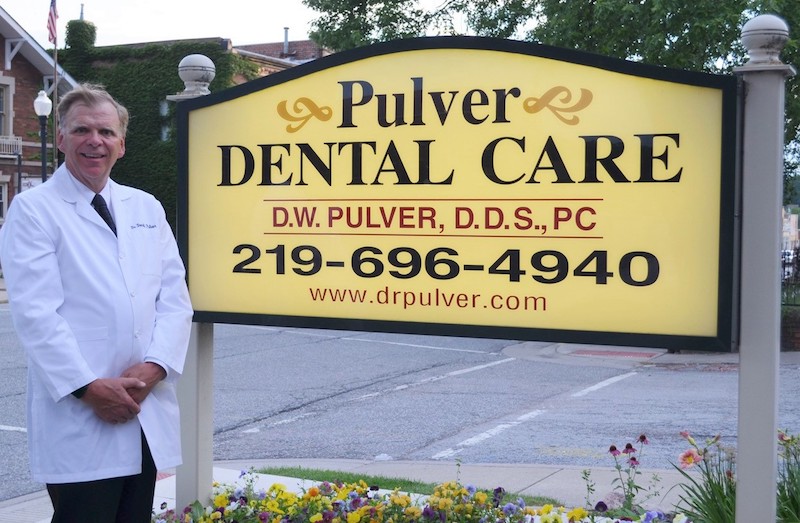 Dr. Don Pulver is proud to provide top quality family dentistry, alongside his son, Dr. Anthony Pulver. He abides by the motto of "treating patients, not just their teeth." Dr. Don is a proud graduate of Indiana University, where he studied dentistry. His passion for education, as well as a quality patient experience, sets him apart from other dentists.
Dr. Don's commitment to education did not stop with his degree, he prides himself on constantly evaluating new and innovative dental methods. By consistently improving his techniques and furthering his education, he ensures that his patients receive top quality treatment.
Dr. Don attends many hours of continuing education programs every year. He has advanced experience with Invisalign, cosmetic dentistry, and implant crowns. He is also a member of the American Dental Association, Indiana Dental Association, Northwest Indiana Dental Society, and Chicago Dental Society.
Dr. Pulver enjoys being an active participant in the community. He enjoys working with children and is addressed as "Dr. Don" when treating a child. He participates and believes strongly in programs such as "Give Kids A Smile", which provides dental care and education to low-income children. He also enjoys providing office tours for pre-schools and visits elementary schools each year during Dental Health Month to educate the children on nutrition and the importance of good dental health.
Each fall he hosts a "Halloween Candy Buyback" and sends the candy to our deployed, U.S. Troops. Giving back to the community is very important to everyone at Pulver Dental Care.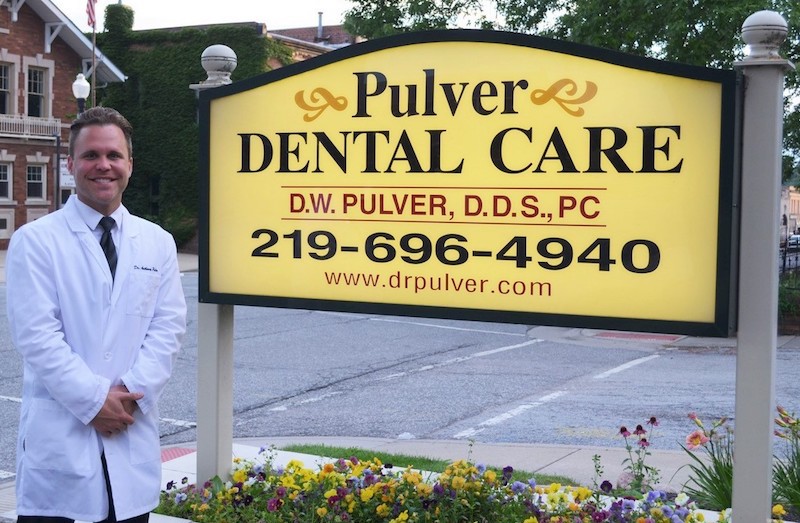 Dr. Anthony Pulver is proud to work alongside his father to provide the best quality dental care for his patients. Dr. Anthony is a proud alumnus of Midwestern University School of Dental Medicine -Illinois. He and his wife, Ashley, have two children a daughter Isabella and a son August.
Dr. Anthony's vast knowledge and understanding of multidisciplinary dentistry helps him to cater to all of the individual needs of his patients. Like his father, Dr. Anthony continuously strives to learn about up and coming dental techniques to ensure that his patients are receiving the absolute best possible care.
Also like his father, Dr. Anthony particularly enjoys working with kids and has several years of pediatric experience. He enjoys giving back and supporting his community. Alongside his father, Dr. Anthony participates in the "Give Kids A Smile" program that provides healthcare to underprivileged children. He also presents at local elementary schools during Children's Dental Month.
Dr. Anthony upholds the same values of education and community outreach as his father, and together they make Pulver Dental Care a warm and inviting place that provides their patients the absolute best in dental care.
Korey
Licensed Dental Hygienist
Korey has been with our practice for 8 years now. Korey has three Boston Terriers named Tina, Toby, and Finch. Korey loves hot wings and spends her free time working out and spending time with her family. She loves country music and her favorite kids movie is ``Bee Movie.`` Korey is a people person, and enjoys connecting with her patients and helping them be at ease during their visits. Her personal dental philosophy is "Even if your teeth are not perfect, they are yours. You should do everything possible to take care of them so that you can keep them forever.
Kim Redmon is a dental assistant who has worked at our practice for the last 31 years. She is married to Grover and they have two children, Alicia and Zach. She is also the proud pet mom of Jasper, her 4 ½ pound Yorkipoo. Kim grew up on a produce farm and used to be an assistant horse trainer. In her free time now, she likes to garden, read, and crochet. Her favorite song is 'Don't Stop Believin'' by Journey. Kim enjoys meeting new people and her personal dental philosophy is to treat each patient with kindness and honesty.
Michelle
Licensed Dental Hygienist
Michelle Coin is a dental hygienist who has been with our practice for the past year. Her family consists of her husband, Jason, her twins, Allie and Austin, and her dog, Lucy. Michelle is also a twin herself! She recently moved to Lowell and began raising chickens. Her favorite food is pizza, and in her free time she likes to camp, run, bake, garden, fish, and play outside with her children. In 2017, she ran the Chicago marathon! Michelle's dental philosophy is that she wants to help her patients maintain a healthy mouth for an overall healthy body.